Whether you're already a member or thinking about joining a local bowling league in Gladwin, MI, you'll find exceptional equipment service at our pro bowling center. Meadow Lanes Bowling & Banquet Center is the only pro shop in the entire region, and we are proud to be fully certified by the International Bowling Pro Shop and Instructors Association as a full-service bowling shop.
Our trained technicians have been with us for years, and have decades of combined experience in the bowling service field. We use only top-quality tools and equipment and IBPSIA approved, cutting-edge techniques to help you maintain your equipment and improve your game. Our bowling shop offers the following services at affordable rates:
Ball Drilling:
---
Just as every bowling league's style is unique, every bowler's palm width, finger size and dexterity is different, so it's important to make sure your ball is completely adapted to both your bowling style and physical specifications. We offer precision design and drilling to customize the holes to your finger size, hand span and typical pitch angle so you can take advantage of a smooth, consistent fit.
Ball Resurfacing:
---
Is your favorite, lucky or perfectly tailored bowling balls looking a little beat up or developing uneven performance? We can completely restore your ball to its original factory finish, or enhance its grit texture to work with your specific technique.
Ball Cutting and Plugging:
---
Need to plug your bowling balls or cut down an existing plug? We use a plug cutter designed for ultimate precision. The machine-programmed blade perfectly contours to your ball's curvature, and wields a completely flawless edge to eliminate any sanding or scraping of the surface.
Ball Fittings:
---
Even if you're an old hat at bowling leagues, you may need to come in for a professional fitting every few years to maintain the perfect relationship between you and your bowling balls. Your hand can change with injuries or over time, causing poor fitting. We measure your span, finger size and pitch angle to customize your ball to those exact parameters. A perfect fit is a game-changer, preventing blisters, eliminating joint pain and dramatically increasing the consistency of your aim and release.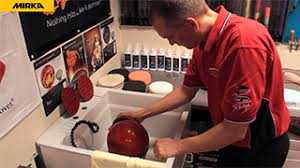 Our pro shop also features quality bowling balls and accessories for sale, including:
Contact us and call 989-426-7671 or stop by our bowling shop, arcade, banquet hall, and cosmic bowling events in Gladwin, MI to get our pro services today.